BRD Series Grooved Feed Throat Pipe Extruders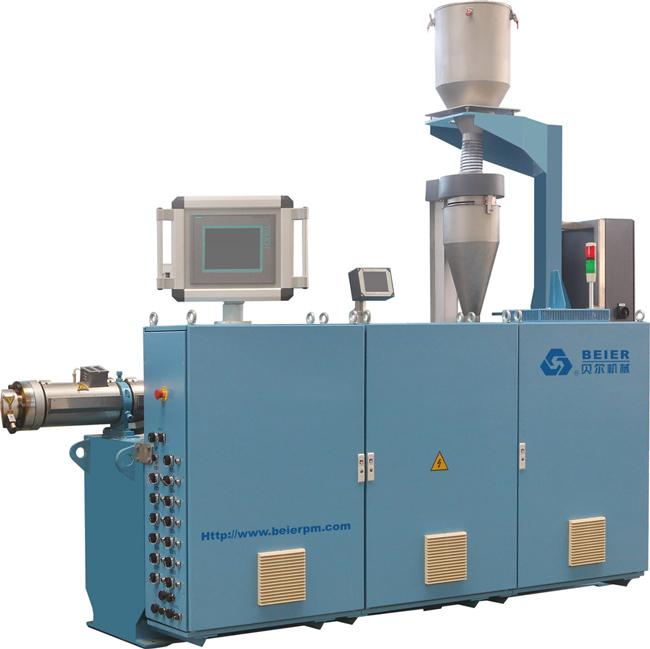 The characteristics of BRD series high efficiency single screw extruder.
 We have special designed screw and longer processing unit (L/D=38) so that the machine can have high capacity and excellent molten homogeneous state applicable to HDPE?PP?PPR?PE-RT pipe extrusion industry and also has the advantage of high efficient and safe operation.
(1)With spiral groove on feeding part, we can increase 30% of capacity.
(2)With water cooling sleeve on the feeding part, we can process different kinds of material.
(3)Unique screw design makes better plasticizing and high quality products.
(4)With special designed barrel, the proportion of energy consumption and output can reach more than 1:4. Comparing with normal single screw extruder's 1:2.5~3?we can extrude the same output with less energy consumption.
| | | | | | |
| --- | --- | --- | --- | --- | --- |
| Modle | BRD60 / 38 | BRD75 / 38 | BRD90 / 38 | BRD120 / 38 | BRD150 / 38 |
| Screw diameter  (mm) | 110 | 160 | 250 | 315 | 355 |
| Maximum screw speed (rpm) | 230 | 185 | 150 | 106 | 95 |
| L/D Ratio | 0.28 | 0.28 | 0.24 | 0.28 | 0.27 |
| HDPE Max.Output    kg / h? | 400-450 | 550-560 | 850-900 | 1000-1100 | 1250-1350 |